Mayor autohemotherapy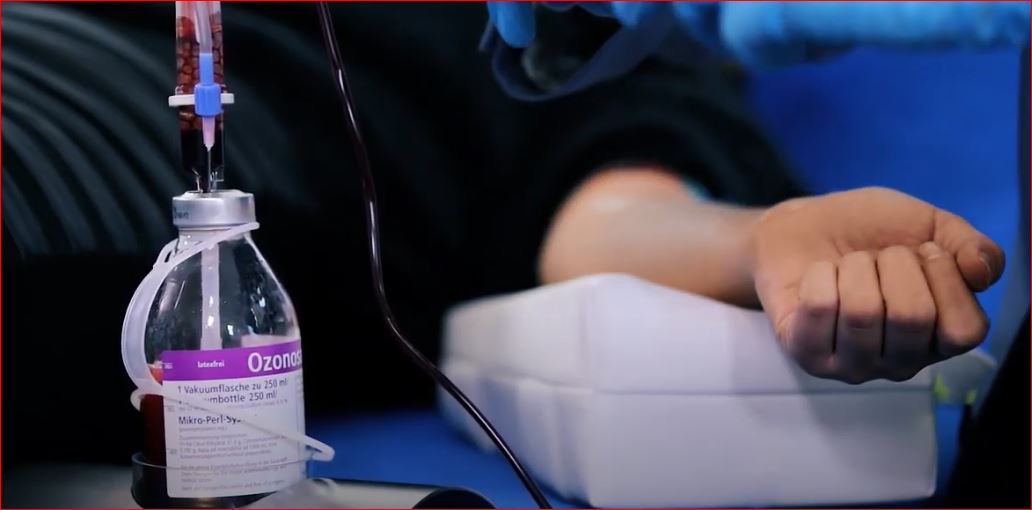 How is major autohaemotherapy performed?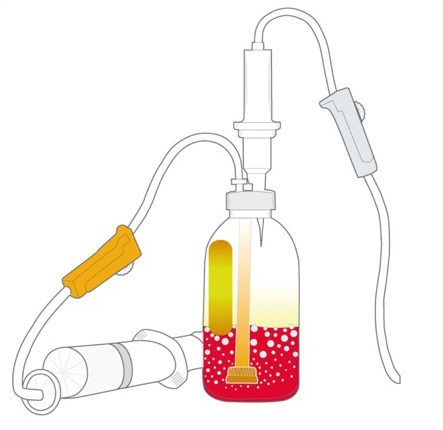 For extracorporeal blood treatment, as a rule, only sterile single-use material must be used. Furthermore, the treatment needs to performed within a closed, pressure-free system.
50 to 100 ml of autologous blood are taken from the patient, which is subsequently enriched with precisely predetermined quantities of ozone to be directly reinfused. In order to ideally activate all erythrocytes and immunocompetent cells, the ozone/oxygen mixture should be be finely dispersed to be bubbled through the blood. Our micro-bubble system allows for the finest distribution. Ozone will react within split seconds, while the oxygen is bubbled through the blood over an ample surface area to eventually gather on top of the liquid level. Blood will be reinfused as a regular intravenous drip at 60 to 90 drops per minute. This means that neither a single oxygen molecule nor a single ozone molecule will enter the vascular system (Source: Ozone in Medicine: The Low-Dose Ozone Concept—Guidelines and Treatment Strategies: Ozone: Science & Engineering: Vol 34, No 6 (tandfonline.com). Besides a hygienically faultless operation, the handling of ozone also requires the use of ozone-resistant materials.



The following video precisely illustrates the procedure of major autohaemotherapy performed by means of our ozone generator OZONOSAN alphaplus.

Indications
The major autohemotherapy can be applied as complementary therapy for the following indications.
Arterial circulatory disorders
Peripheral arterial circulatory disorders
Cerebral circulatory disorders (post-stroke)
Retinopathies
Circulatory disorders of the inner ear (acute hearing loss, tinnitus)
Angiopathies
Virus-bedingte Erkrankungen
Hepatitis B and C
Herpes simplex, Herpes zoster
General immune deficiency
Complementary for general weakness, in geriatrics and environmental medicine
Complementary oncology
Chronic inflammatory processes in rheumatology and orthopaedics
Contraindications
deficiency of glucose-6-phosphate dehydrogenase (favism, acute haemolytic anaemia)
(uncontrolled) hyperthyreosis, thyrotoxic crisis
the first three months of pregnancy
major autohaemotherapy is not indicated for leukaemia
Guidelines for medical ozone
For every kind of ozone/oxygen treatment, the guidelines for medical ozone should be taken into account. Medical associations for ozone application have prepared treatment protocols, serving as a basis for standards and guidelines. These have been revised and published according to the latest scientific insights gathered from basic research, clinical studies and empirical values.
SEO-Headline
Weitere Artikel
Seit vielen Jahrzehnten forschen wir zur Ozontherapie und entwickeln unsere Produkte ständig weiter. Hier finden medizinisches Personal und Patienten gleichermaßen wertvolle Informationen rund um die Ozon-Therapie. Schauen Sie ruhig öfter vorbei, diese Rubrik wird ständig erweitert.